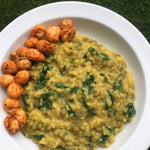 Kitchri, or kichdi in Hindi, is one of the most commonly made Ayurvedic food . This comfort dish  has been praised since ancient times, and with good reason! It's a light, healthy dish that can be easily personalized to suit the tastes of everyone in your family. If you're looking to take your health regime to the next level, or simply desire healthier meals in general, keep reading to learn more about this simple Ayurvedic recipe and why it's so healthy for you!
What is kitchri the king  of ayurvedic food?
Kitchri is made with rice and mung beans. It is a traditional dish from India that can be made in many ways, but most often it is served as a dal with rice. Kitchri is nourishing food and easy to digest because of the slow-burning quality of rice and mung beans. Kitchri has many health benefits, such as lowering cholesterol levels, strengthening the immune system, and providing high-quality protein. Ayurveda considers kitchri as one of the best foods for overall good health and longevity. So if you are looking for delicious comfort food, give this ancient Indian dish a try!
Rice and lentils are a staple in the Indian cuisine. Not only are they nutritious and tasty but they also make for a yummy meal at an affordable price point. 
And who doesn't have a bag of rice and lentils floating around somewhere in the back of their kitchen cupboard? We always do! And even though rice and lentils might not sound like the sexiest ingredients under the sun, this dish is packed with flavour and aroma galore. 
Kitchri is a dish in South Asian cuisine that is usually made with rice and lentils or mung beans. We like to think of this dish as an Indian version of a risotto, a creamy delicious savoury dish that will warm you from the inside on cold winter days. 
It can be prepared in a single pot, so it's easy to make and doesn't take up a lot of space in your kitchen, on your stove top or counter. We love a simple, comforting dish! Its main ingredients are pantry items so it's also a great way to whip up a yummy meal when you don't have a whole lot of fresh veggies or fun stuff in your fridge. But don't get us wrong - you can totally add most type of veggies to this dish once you've got the base right! 
Kitchri an ayurvedic food is highly nutritious . A word on the nutritional value of its ingredients: Rice itself is high in calories and carbohydrates but makes for a great base in a meal because it is satiating and keeps you full longer. It also contains plenty of micronutrients like folate, thiamine, and selenium. Even though many wellness gurus recommend whole grain rice, a standard white rice is often easier to digest so we think it does make for a great comfort food!
In our humble opinion, lentils are a bit of an overlooked secret superhero in the modern day kitchen! Not only do they make an (obviously!) great plant-based protein for all our vegan and vegetarian friends, they are also affordable, tasty and offer a variety of ways to be prepared. For example, did you know that you can easily sprout lentils in your kitchen just by soaking them in water overnight and then keeping them in a jar lightly moist for a few days rinsing them daily? Anyway, lentils are a great protein rich legume that's packed with B vitamins, iron, magnesium, zinc, and potassium. What's more, they are high in fibre, which is great for your digestive health by not only helping you stay regular but also support your gut in building healthy bacteria. 
This dish is also made with our old friends ginger and turmeric who are both superstars in the kitchen when it comes to helping us reduce inflammation and build immunity. 
Are you ready to get comfy with us? Let's go make kitchri, the easy ayurvedic food 
Here are the main ingredients or this ayurvedic recipe :
1 cup of yellow split mung dal lentils
1/2 cup of basmati rice
6 cups of water (approx)
1 tsp of grated ginger
1/2 tsp coriander powder
1/2 tsp cumin powder
1/2 tsp mustard seeds
1 tsp of turmeric powder
1 pinch of asofetida /hing (optional to replace garlic and onions)
1 cup and half of assorted vegetables : green beans, zuchini, cauliflower, spinach...according to the season.
Handful of fresh coriander leaves.
Method:
1) Mix the rice and lentils, wash and rince
2) In a large pot on medium heat put some vegetable oil and add the spices except
turmeric, sizzle for about a minute
3) Add the rice and lentils mix till the rice is translucide
4) Add turmeric and water
5) Bring it to a boil and add the vegetables
6) Cook on low heat for about 40 mins
7) Season with love and enjoy topped with coriander leaves and popped water lily seeds for the perfect crunch
Kitchri the ayurvedic food  is best enjoyed when topped with fresh coriander leaves! 
(That is if you're part of #teamcoriander (or cilantro as our American friends say!) - did you know that coriander tastes like soap to some people and that it is mostly a genetic disposition whether you like it or not? We LOVE a fresh heap of coriander on almost everything but we also don't judge you if you skip this step or add some other fresh herbs like parsley instead. 
Ready for the final step? 
Give this deliciously creamy dish a crunchy edge by topping it off with some popped water lily seeds. They not only add the perfect crunch but bring in another layer of flavour - we think  Oh Lily! Indian Gold is a perfect companion for this one.
Bon appétit!
Ready to make your first Kichri at home? Shop your toppings now
PPS: If you end up making this dish in your own kitchen, don't forget to tag us - we'd love to see your creations and reshare them to our stories. @ohlilysnacks
---
← Older Post Newer Post →