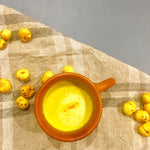 We love a tasty cup of golden milk, it helps warm your heart and soul whatever time of day or year! Turmeric lattes, known as golden milk in India, have been part of Ayurvedic medicine for thousands of years, and turmeric is a great all-round health promoter for all three doshas - more on those another day :)
Turmeric can help detoxify the liver, encourage a healthy immune response, assist digestion, promote healthy respiratory, circulatory and nervous system and more! Pair your golden milk with Indian Gold Lily Pops, or contrast with Aztec Treasure: which one will you choose?
Ingredients:
1 cup of milk of your choice
1 teaspoon of fresh turmeric or turmeric powder
1 cinnamon stick or ½ teaspoon of cinnamon powder
1 pinch of black pepper
 1 or 2 teaspoon honey or maple syrup
Method:
To a small saucepan, add milk, turmeric, cinnamon, black pepper, and sweetener of choice. 

Whisk to combine and warm over medium heat. Heat until hot to the touch but not boiling - about 4 minutes - whisking frequently.

Turn off heat and taste to adjust flavor. Add more sweetener to taste or more turmeric for intense spice and flavour.

Season with love and serve immediately. 
Bon appétit!
---
← Older Post Newer Post →