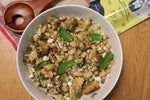 A vegan and gluten free salad for you to make and enjoy with your loved ones

Ingredients:
1 cauliflower
2 table spoon of zaatar spices
420g can butter beans, drained and rinsed
A bunch of mint
Olive oil
1 lemon
Salt and pepper
Feta type of cheese
Method :
1) Preheat your oven on 190°c
2) Prepare the cauliflower and cut it in florets
3) Arrange the florets on a parchment-lined baking sheet. Sprinkle with oil, salt, pepper
and zaatar and toss to coat. Spread in an even layer. Roast squash for about 20 minutes
or until tender and golden brown
4) In the meantime prepare the dressing: olive oil +lemon juice, salt and pepper.
5) Shred the mint (quantity according to taste)
6) In a salad bowl mix the spiced cauliflower, the dressing and the mint
7) Season with love, top with feta and popped water lily seeds!
Shop a nutritious and crunchy salad topping now
Enjoy cold or lucky warm, bon appétit!
Let us know what you think!
---
← Older Post Newer Post →