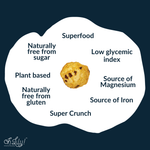 Discovering the health benefits of water lily seeds
Water lily seeds, known as makhana in India, have been a staple snack for thousands of years. Not only are they delicious, but the health benefits of water lily seeds are also numerous. Let's dive into what makes these seeds so special.
The Ancient Tradition of Makhana
Makhana has been cherished in India for its nutritional value. Ayurvedic medicine, in particular, recommends makhana for various health benefits, from blood sugar regulation to cardiovascular health. Moreover, it's a tridoshic food, beneficial for all three doshas. Traditionally flavored with ghee and spices, makhana even finds its way into curries during special occasions like the Navratri festival.

 

Our journey with makhana began during a trip to India. The delightful taste immediately captured our hearts. But when we delved into the health benefits, we realized we had discovered something truly special, leading to the birth of Oh Lily!
WHAT ARE THE NUTRITIONAL PROPERTIES OF POPPED WATER LILY SEEDS? : health benefits of water lily seeds
Lily Pops don't just taste amazing, they are good for you too! Indeed health benefits of water lily seeds are numerous: 
Popped water lily seeds have an amazing amino acid profile[1], containing all nine of the essential amino acids.

Water lily seeds are low glycaemic index[1] foods, which means although they are rich in carbohydrates they are more slowly digested by the body, leading to slower absorption and metabolism which means a lower and slower rise in blood glucose and usually also insulin levels.

They are a low calorie food, with just 96 calories per 30g bag of Lily Pops.

They are a good source of fibre with around 4g per 30g bag of Lily Pops.

Water lily seeds contain several minerals in significant quantities, including magnesium, iron, manganese, potassium, phosphorus and copper.

There are 3g of plant protein per snack bag of Oh Lily! Lily Pops.
Our Lily Pops are paleo and vegan friendly as well as gluten and refined sugar free.
So now you know all about the health benefits of water lily seeds , we urge you to join in our snacking evolution!
References:
[1] https://www.ncbi.nlm.nih.gov/pubmed/30091404
Further Reading:
https://nutritiondata.self.com/facts/nut-and-seed-products/3065/2
---
← Older Post Newer Post →