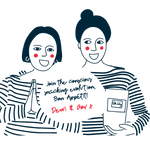 You are two French foodies through and through. So please tell us…
What is your favourite dish to eat?
Gov: Nasi Uduk, a fragrant rice dish made with coconut milk, lemongrass and Pandan leaves. It is so aromatic, just the smell of it is irresistible! It is a typical dish from Jakarta, Indonesia. When our mother makes it I can't help eating directly from the rice cooker!
Dewi: It will sound very cliché but it has to be ratatouille with a good crusty baguette! It's like having summer in a plate.
What is your favourite dish to cook?
Dewi: I really love cooking kitchri. the slow cooking process is relaxing. You start by looking at your spice box full of colour, cut your vegetables, wash the rice and dal. When it starts cooking it smells so good .
Gov: Broccoli curry. Broccoli is my favourite veggie, and when I'm really hungry it is a quick and very satisfying dish to make. I love how it is easy yet full of flavour and delicious! And I can make it unique every time as I love to play with the spices.
Where do you like to eat out?
Gov: In the streets! I love walking outside, being attracted by the sounds, the smells or the look of the food. You can really feel the heart of a place when you eat from the traditional street food vendors.
Dewi: For me, it's more about having a great cup of coffee out. I love our local Italian Casa Tua, the perfect macchiato! It translates as "your house" and indeed I feel like it is an extension of our living room!
Where is your favourite place to eat in the world?
Gov: At home! The most comforting food made with lots of love.
Dewi: This is a very difficult question for me! Our parents' are both great cooks and I love their home-cooked food. India and Italy are both paradise for veggie foodies! It's hard to have a bad meal there and in both countries there is always something sweet to follow!
If you could eat one food for the rest of your life what would it be?
Gov: Rice! My grandmother used to call me "the rice eater", I need my portion of rice (almost) every day!
Dewi: Hmmmm, bread… a crusty sourdough please. We always laugh about having a team rice and a team bread.
---
← Older Post Newer Post →