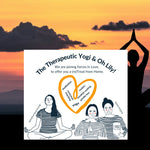 Oh Lily! organises a yoga retreat
Yoga, Ayurveda and Oh Lily! snacks do have a strong history in common.
When we met Elizabeth the first time (the Therapeutic yogi), we were inspired by her view on Yoga, Ayurveda and food. After a couple of conversations, we joyfully decided to offer you a toolkit for thriving this winter!

But before we explain more about this, we want to share a conversation we had with Elizabeth.

Dewi:
Namaste Elizabeth, can you give us a little more background on why you became a yoga teacher?

Elizabeth:
I grew up practising Yoga with my Grandma, my first teacher and inspiration. Over an illness in 2010, I began to dive deeper into Yoga, and it became the primary tool for recovery.
In 2015 I undertook the teacher training diploma with the British Wheel of Yoga, the highest awarding yoga qualification in the UK.

Dewi:
Your Grandma must be very proud of you. What is your relation to India?

Elizabeth:
On many trips to India, the birthplace of Yoga, I got fascinated by eastern philosophy. The combination of plant-based food, the principles of Ayurveda inspired me to dive deep into this culture.
With my background in plant-based food preparation, Ayurveda and women's health, I provide my clients inside into the wellness regimes or cooking classes to complement yoga sessions.
I married into a south Indian family and every time I visit them I am inspired by their selfless acts of love for each other.


Dewi:
Did you know that the basis of our Snacks, the Waterlily seeds, are used in Ayurveda and are part of the plant-based food?

Elizabeth:
When I saw the first time your product, I was surprised to see the the Indian Waterlily Seeds combined with your gourmet recipes. It looks to me like the link between the two worlds. You can enjoy the health benefits with the taste of the French cuisine. I loved this combination. Conscious snacking really resonate with me and reminds me of a dear quote: "There is no possibility of one's becoming a Yogi, O Arjuna, if one overeats, or eats too little, sleeps too much or does not sleep enough.."B.G.6.16

Dewi:
Thank you for your kind words. We found the Waterlily seeds on a trip to India and thought about bringing this fantastic product together with our French roots. At this time, Oh Lily! was born.
It looks like we have a similar thought on how to bring the healthy part from India into our world.

Elizabeth:
Absolutely.
I love food. Always been a foodie and always had the stomach of a lion. Whenever my family ate out, if there were leftovers (as long as they were veggie), I'd finish them!
I can still eat a lot, but years of overeating have directly affected how I digest things (physically and emotionally).
For years I was told I was so skinny and that I should eat more. My recent realization is that eating more doesn't change that. Yes, I gained a small amount of weight around my mid-drift but generally always felt bloated and "dull".
I found that I'd go to food for most situations. Hunger, boredom, stress and when watching movies.
According to Ayurveda and Yoga, only one of these is correct- when we are actually hungry. Our body will tell us signs of feeling empty and rumbly in the tummy.
I love your idea of conscious snacking and can not agree more: Oh Lily! is more than a snack. I use them as a snack after a yoga class and topping for my porridge bowl in the morning.
My favourite ones are Keralan Snow Crunchy water lily seeds with dark chocolate and coconut. My husband loves the cheesy ones also.

Dewi:
It is great to hear that you love our products.
We feel honoured that you offer our clients experience a day to connect to yourself and slow down.
On the retreat day, we will boost wellbeing with simple tools, relaxing and thoughtful practices - precisely what we all need to prepare for the winter season.

One last question for anyone who might be worried about Yoga, is it for everybody?

Elizabeth :
The true meaning of Yoga is to connect with your deepest inner self; the postures are there to make us feel better, but in no way should you think you have to be flexible! Yoga is for every body!  It empowers you to find the magic within yourself!

I'm really excited to go through the day with you and the participants.

Dewi:
We can't wait before the day starts.
what about you? Are you ready to invest in yourself?  Stay tuned for another retreat :)
---
← Older Post Newer Post →