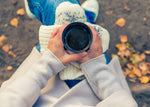 Get cosy with Oh Lily! nutritious snacks :
Today marks the Autumnal Equinox, and it's a  time when day and night balance out. As the chill of winter approaches, many cultures, including Ayurveda, have rituals to embrace the season. These rituals focus on nourishing our bodies and minds, ensuring we remain balanced despite the shifting weather.
Ayurveda's Autumnal Wisdom
Originating from India, Ayurveda seeks to treat ailments by promoting balance within the body and mind. As autumn blankets us with its cool embrace, meanwhile, Ayurveda offers rituals to rejuvenate and restore. This season, prioritize practices that promote healing, rejuvenation, and renewal.
Savoring Autumn's Delights
Autumn is a season of nourishment. Therefore,Embrace comfort foods spiced with cinnamon and cardamom to aid digestion and bolster your immune system. Relish warm milk at bedtime or oatmeal for breakfast, especially when the cold makes digesting heavy foods challenging.
Ayurvedic Beverages for Autumn
While hot cider and pumpkin spice lattes are autumn favorites, however they often contain added sugars. Instead, savor beverages infused with spices like cinnamon, nutmeg, and ginger. These not only capture the essence of autumn but also offer health benefits. Consider teas with organic cinnamon, cloves, and other herbs available at health stores.
Fruits of the Season
Autumn in Ayurveda is a time to savor seasonal fruits like apples, pears, and especially persimmons. As winter approaches, grapes become the primary fruit, offering ample nutrition.
Transitioning to Winter with Ayurveda Tips 
Lastly,the care you give yourself during autumn influences your winter experience. Simple changes, like adding more protein to meals or sipping warm beverages, can make a difference. Incorporate autumnal vegetables like squash and pumpkin into your diet, and consider adding spices like ginger and turmeric for their health benefits. Also, indulge in Oh Lily! Indian Gold for its anti-inflammatory properties. To maintain a stable mood during shorter days, focus on consuming healthy fats like olive oil and avocados.
---
← Older Post Newer Post →