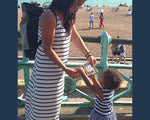 Snacks for kids are very important. Children have smaller stomachs that fill up quickly, and they burn energy fast, so snacks help keep them nourished in between meals. As parents, it's important to choose snacks that not only taste good but are also healthy and nutritious.
At Oh Lily!, we understand the importance of providing healthy snacks for children. When we started our brand, we were amazed by how much kids loved our water lily seeds. We were happy to see children pick them endlessly from our stand, and it was no surprise when parents came to us, pleased to find a snack their kids enjoyed that was actually good for them.
Our ancient superseed Lilypops have become a favourite among children, and we take pride in providing a snack that parents can feel good about giving their children. We've heard from parents who tried our snacks for themselves first and were happy to share a superfood snack with their kids.
As parents, it's essential to choose snacks that meet specific criteria: they should be nutritious, healthy, and tasty. That's why parents appreciate our Lilypops. Our snacks provide the same pleasure as traditional snacks but come with added benefits that parents don't want to compromise on. With Oh Lily!, there's no need to sacrifice taste over health!
We believe that enjoying snacks together can create wonderful memories. When parents share a snack with their children, they're not only providing nourishment but also creating a bond. With Oh Lily!, parents can feel good about the snacks they're giving their children while creating memories that will last a lifetime.
Join us in our mission to provide healthy snacks for children. Try our Lilypops today and discover why kids and parents alike love them. Visit our website to learn more and order your Lilypops today.
---
← Older Post Newer Post →