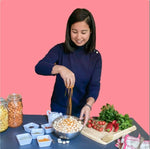 WITH OH LILY! WE WANT YOU TO ENJOY THE BENEFITS OF THE WATER LILY SEEDS WHILE TAKING YOU ON A CULINARY JOURNEY
OUR CHEF HAS JUST FINISHED  WORKING ON A NEW SUMMER FLAVOUR. YOU ARE PROBABLY ASKING YOURSELF: WHERE DO THE IDEAS COME FROM? HOW DOES A NEW TASTE COME ABOUT? WE FOLLOWED GOV IN THE DEVELOPMENT OF HER LATEST PRODUCT : "DOLCE VITA". THE FLAVOUR IS NOW AVAILABLE ON OUR SHOP.
·      Gov, you developed these wonderful new snacks. How did you come up with the idea of using water lilies with different recipes?
"The development of recipes from different parts of the globe has always inspired me. There are so many ways to try new things, especially in the kitchen. On a trip to India I saw the puffed water lily seeds for the first time. They were used as snacks on many occasions and as offerings in temples, called "Prasad" meaning "food of the gods", because of their exceptional nutritional values.
In terms of taste, I wasn't sure whether my friends in Europe really like the snacks. So I started to refine the puffed water lily seeds with different spices. I only use high quality and natural products as we believe "less is more" and best things come is their simplest way!
One of the first products was Indian Gold: A tribute to the country where we discovered our lovely water lily seeds and a celebration of turmeric, the king of spices filled with goodness! We added our personal twist by preparing the popped water lily seeds with Guérande sea salt and extra virgin olive oil ingredients we love to cook with back in France.
After friends tried the new product and loved it, Dewi and I decided to offer the product on local markets in England. We were delighted our Lilypops  were well received!"
·      And what happened next?
"I strengthen my journey as a "Food Artist" when i was living in Nice on the French Riviera. There I cooked vegetarian & vegan sattvic meals for events and yoga retreats. So the idea for the next recipes came naturally: Cheezy Vegan and French Riviera.
I've always been a snack lover, and i felt the offer was very limited and we haven't seen anything new in a long time! I love crunch and apart from crisps or pop corn it was hard to get the moreish crunchy feeling with anything else. Plus when looking for a healthy alternative there was always a compromise to make with the taste or texture. The crunch of popped water lily seeds is what made me fall in Love with them! And discovering the health benefits of these ancient super seeds was the icing of the cake! I thought this is the best combo for a snack: good for me, tasty and crunchy!                                                          
How we cook and how we eat is a reflection of our history. So our recipes are inspired by our journeys and it's a great pleasure for us to be able to share that through with Oh Lily!"
 ·      So it is a culinary journey we are on! What inspired you in for the new creation?
"I have lived in the south of France on the Italian border for several years. So Italy would be the favourite week end destination or even just a day trip to delight the taste buds. The gateway to Italy always feels soothing and warm and is a paradise for gourmets! So I thought: How can I capture this inspiration as a taste in a snack?
Tomatoes and olives are particularly tasty in this part of the world and are common ingredients for every Italian household. And with this new flavour, we wanted to celebrate that sweet way of life you experience every time you go on a trip to Italy! So the new Oh Lily! is called : "Dolce Vita" and it will satisfy you with its tanginess and earthy notes and you on a sunny day in Italy."
·      Thank you for this exciting insight into the development of the Oh Lily! snacks.
---
← Older Post Newer Post →